Shipping
Enjoy free, secure shipping on all orders over $49
Simple Returns
Straightforward 30-day return policy
Give Back
A percentage of product sales goes to YDCCF
Low Price Guarantee
Lowest price guaranteed or we'll match it
Shop | Thomas & Thomas
Thomas & Thomas Contact II 2WT 10'9"
In Stock • Bozeman, MT
Optimized guide spacing with lowered stripping guides to decrease line sag between the hand and first guide
Increased backbone power to improve hook sets and assist landing larger fish
Extra dense premium Flor grade cork grips increases feel and bite transmission
Black RECoil single foot snake guides
Black hook keeper and winding check
Black "Low Rider" style stripping guide keeps line tighter to blank for improved strike transmission and accuracy
View Details & Specs
Shipping
Enjoy free, secure shipping on all orders over $49
Simple Returns
Straightforward 30-day return policy
Give Back
A percentage of product sales goes to YDCCF
Low Price Guarantee
Lowest price guaranteed or we'll match it
Description
10' 9" 2 weight, four piece fly rod

The 1092 Contact II is a purpose-built nymph rod designed for the most demanding of modern, Euro-style nymph anglers. Proprietary tapers and resins have resulted in an amazingly sensitive tip section that transfers every vibration from the fly to your hand. Incredibly stable trough the casting stroke, the Contact II is a performance European Nymphing fly rod from just about any angle. The tip section is soft to protect lightweight tippets and as sensitive as any of these types of rods that we have fished with out of our Bozeman fly shop. 
Contact II
After nearly three years of design and development, T&T is excited to announce the release of the highly anticipated Contact II series. Contact II rods are a fully redesigned second generation of T&T's Contact rod series. 
Contact II blank construction utilizes five different types of premium quality carbon and fiberglass fibers, bound together by our proprietary aerospace resin system. Aligning these fibers at strategic angles as we roll Contact II blanks improves accuracy, sensitivity, and strength. Components have been carefully selected to maximize performance and comfort. Improved guide spacing moves a "Low Rider" style stripping guide to the butt section of each Contact II, which decreases line sag from the angler's hand to the first guide.
AMERICAN CRAFTSMANSHIP
We believe in many things at Thomas & Thomas, most are pretty simple. Things like being kind to people, doing what's right vs. what's easy, leaving things better than you found them and trusting the person next to you. Simple values we try to live by every day, on the water and in our work. We also believe in America, and in American craftsmanship, innovation and quality. It's a big part of who we are and the success we continue to have. It's why we guarantee every Thomas & Thomas fly rod to be 100% American Made.
Technology
ROD INNOVATIONS
Thomas & Thomas rods are built by a select group of skilled rodbuilding artisans, in our Greenfield MA factory. From the raw material preparation to the final layer of varnish — each step in the process is performed by a specialist with years of experience. We are proud to say that every aspect of the production process for every fly rod we sell occurs in-house. Premium Graphite Options Thomas & Thomas knows the finished fly rod is only as good as the materials that go into it, and that the stiffest graphite isn't always the right choice for a given rod or purpose. Thomas & Thomas builds fly rods from a range of premium quality graphite with different strain rates and recovery speeds, providing the necessary elements for Tom Dorsey and our design team to create the most effective modern tapers and actions while maintaining the distinct Thomas & Thomas feel.
Proprietary Bonding Agents
The performance of graphite fibers is subject to the quality of the bonding agent that holds them together. Bonding technology has been improving rapidly in recent years, and T&T has been working with industry leaders to develop a proprietary resin that improves the performance of our graphite materials. Our new resin employs nano-scale particles to eliminate microscopic voids in the graphite. Filling these tiny gaps with our high-performance resin improves the strength, durability, and dampening characteristics of the rod blank while reducing overall weight.
Ferrule Reinforcement Process / FRP
On a multi-piece graphite fly rod, the areas immediately above each ferrule connection are the critical stress points at maximum load – that means these areas are subject to potential failure. Thomas & Thomas resolves this problem with our Ferrule Reinforcement Process – a strategic extra layer of high strength graphite we hand-roll over each ferrule section. In addition to reinforcing the ferrule strength and durability, FRP adds a distinct visual detail only available on Thomas & Thomas fly rods.
Optimal Blank Curing / OBC
The latest nano particle resins used in graphite rod blanks requires a meticulous curing process to unlock their unique performance qualities. Thomas & Thomas knows that subtle changes to the curing process with these resins can make a big difference in performance, so we take the curing process for our rod blanks very seriously. With our industry leading heat application method and precise temperature control, we meticulously regulate the process to ensure Optimal Blank Curing. OBC helps us achieve the highest level of performance with our premium graphite and bonding agents while maintaining product consistency and stringent quality control.
Low Friction Finish / LFF
When you pick up a Thomas & Thomas rod you will notice a something special about the way the blank feels to the touch. Our Low Friction Finish uses nano-technology to create a slick surface that repels water and defeats the surface tension that exerts drag on a fly line during the cast. The LFF gives Thomas & Thomas rods a performance advantage that you can feel, and is a key element in building rods that cast and shoot line effortlessly.
Warranty

Thomas & Thomas warrants its graphite and fiberglass fly rods and blanks against breakage due to defects in materials or workmanship for the life of the original purchaser as long as he/she retains ownership of the rod. The warranty shall be effective only for new rods purchased from an authorized Thomas & Thomas dealer and registered with Thomas & Thomas within 30 days of purchase. This warranty is limited to the repair or replacement of the rod. Every Thomas & Thomas fly rod is carefully inspected prior to shipment. However, if breakage or any defect in workmanship should appear, simply send the rod or blank to Thomas & Thomas and it will be repaired or replaced. Repair of non-warranty damage to most Thomas & Thomas rods is also available for a reasonable charge.
Materials and color may vary from those used on the original rod (for example, in the event that the model is no longer in production). Warranty does not cover lost sections or lost rods, ordinary wear and tear, neglect or intentional breakage. A return shipping, handling and mailing insurance charge will be applied to repairs. Original owner is responsible for the cost of sending in the rod to be repaired (customer should insure) and any duty or taxes due on international shipments. This warranty does not cover damage caused by use for other than its intended purpose or through attempted modifications or customization of the finished rod or damage caused by others during assembly of a blank into a finished rod. In no event does Thomas & Thomas accept or assume any responsibility or liability for incidental or consequential damages related to or arising from ownership or use of the rod or blank.
REGISTRATION
In order to receive the benefits of the Thomas & Thomas lifetime warranty, please register your new rod within 30 days of purchase. Get information about registering your rod here.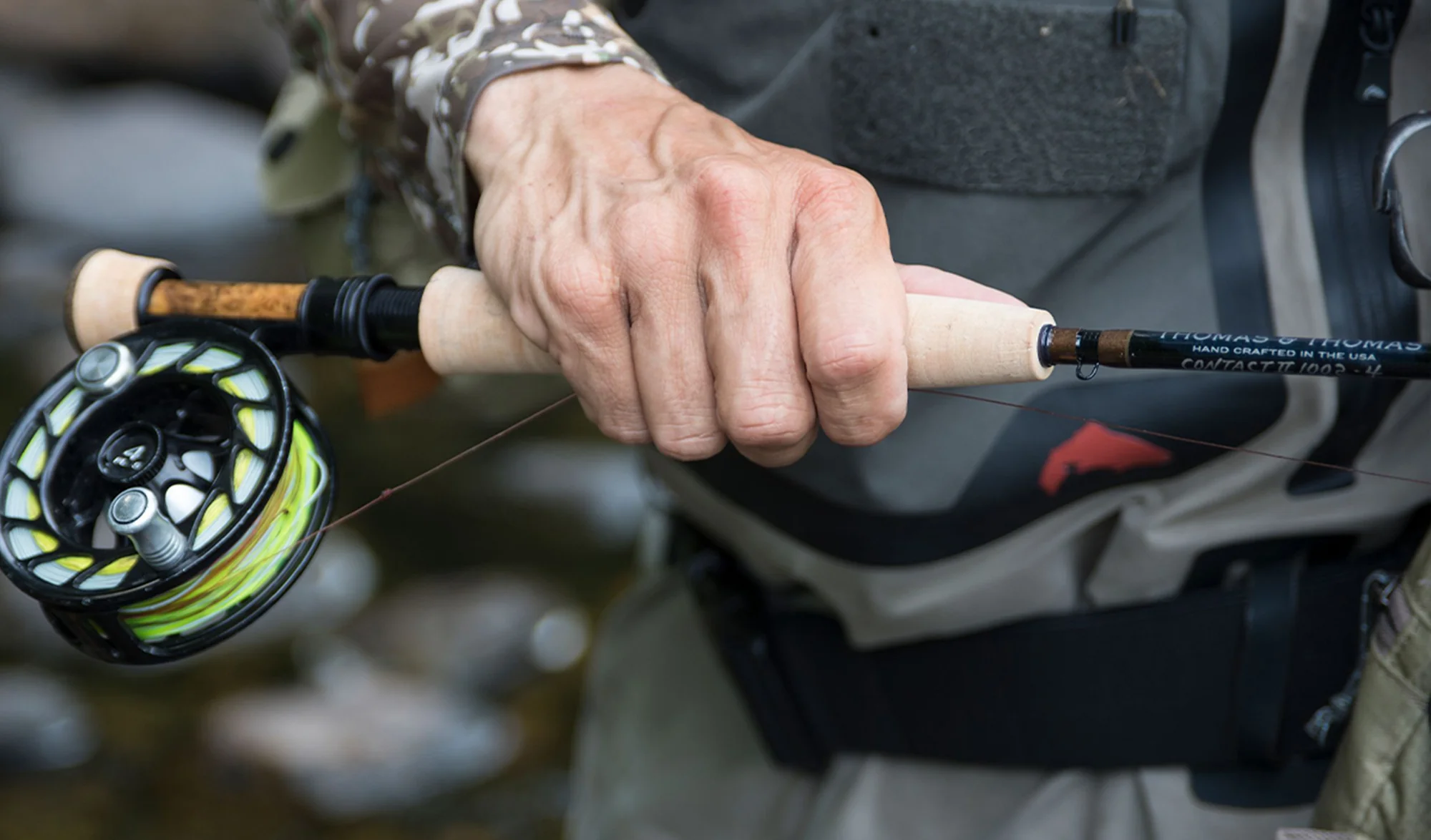 Product Video