Shipping
Enjoy free, secure shipping on all orders over $49
Simple Returns
Straightforward 30-day return policy
Give Back
A percentage of product sales goes to YDCCF
Low Price Guarantee
Lowest price guaranteed or we'll match it
Shop | Winston
Winston Microspey Air 2 11' 3WT
In Stock • Bozeman, MT
ACTION: Medium-Fast. Winston feel with faster blank recovery for better control in wind and at distance.
MATERIAL: Boron III Technology in the grip-section, with AIR 2 S-2000 Graphite throughout all sections.
GRIP: : Newly designed special Microspey 11″ thin diameter fore-grip, with longer 4" bottom grip.
GUIDES: TiCH finished stripper guide with nano plasma ring. Special chrome snake guides. Oversize tip-top.
SECTIONS: 4
STORAGE: Premium Graphite Tube and Logo Rod Sock.
View Details & Specs
Shipping
Enjoy free, secure shipping on all orders over $49
Simple Returns
Straightforward 30-day return policy
Give Back
A percentage of product sales goes to YDCCF
Low Price Guarantee
Lowest price guaranteed or we'll match it
Toggle Between Categories:
Description
LIGHTWEIGHT PRECISION. EFFORTLESS PRESENTATION. TWO-HANDED TROUT PERFORMANCE.
Introducing the new Microspey AIR 2, utilizing our new, high-performance AIR 2 boron/graphite materials to provide anglers an unbelievably lightweight and responsive action that allows for ultimate presentation and faster line speeds to out-perform cast after cast. With an overall lighter weight, faster recovery, smoother connection, and sweeter feel, the Microspey Air 2 provides extraordinary feedback through the cast and swing. This small series of trout-centric spey rods provides incredible performance when adding movement to swung flies, increased line control, and unrivaled feel when fighting trout-sized fish. All rods include a logo rod sock and a graphite rod tube. Made in Twin Bridges, Montana.

MICROSPEY AIR 2 — 11' 3WT.
The do-it-all member of the family. From flashy sculpins on the Missouri, to swinging tandem soft hackles of the West Branch of the Delaware, this 3wt is up for the task. Capable of both long and short casts, it also pairs well as a great indicator rod for stillwater applications. Line it with a 240 grain Skagit, or a 210 grain Scandi with 10' of T-10 for sink tips.

Features
TIGHTER GRAIN WINDOWS. Each Microspey AIR 2 model aligns perfectly with industry-leading trout-specific two-hand lines in Skagit, Scandi, and Traditional styles.

A NEW SPEY GRIP – DESIGNED SPECIFICALLY FOR TROUT. The newly designed, ultra-thin diameter grip provides instant feedback resulting in fewer blown anchors, and an ultra-light feel, that feels more "trout" than "spey." The bottom grip is now longer, yet slimmer than the full-size versions, and provides anglers infinite ways to grip and control spey casts.

A BEAUTIFULLY FIGURED MAPLE REEL SEAT WITH DOWNLOCKING NICKEL SILVER COMPONENTRY. The Microspey AIR 2 features a stunning burled maple reel seat, produced exclusively for Winston's timeless aesthetics. The hardware includes double downlocking nickel silver rings and componentry, for a classic look that is synonymous with Winston.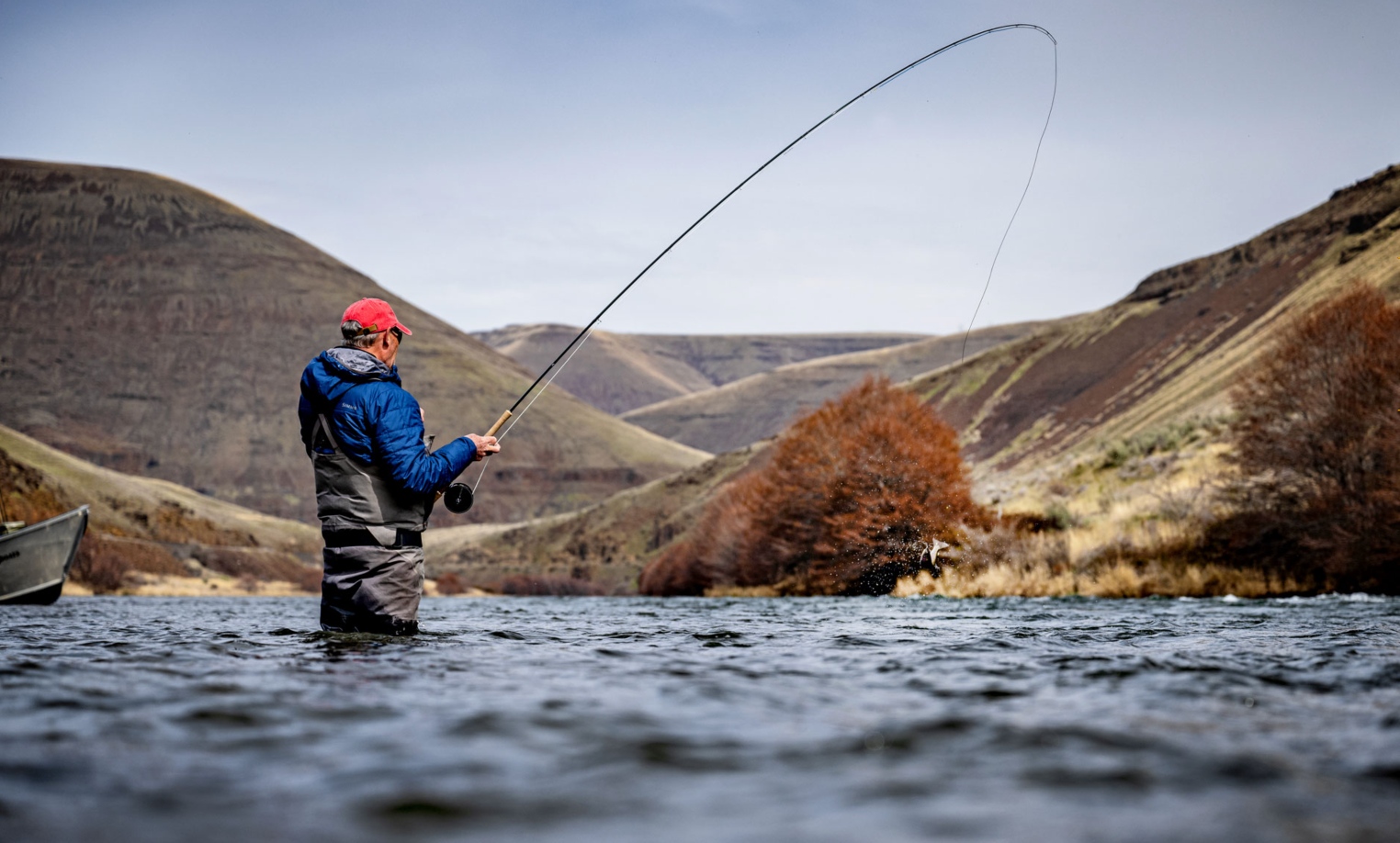 Product Video